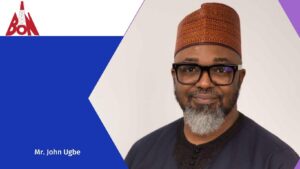 Mr. John Ugbe, the Chief Executive Officer of Multi-Choice Nig. Ltd is a solutions-oriented ICT expert and business manager with over fourteen years practical experience in all aspects of ICT, he has a passion for the web and is particularly passionate about motivating and managing people.
Multi-Choice Nigeria Ltd was elected the 14th Chairman of BON at the 75th General Assembly/20th AGM held on October 7, 2021 in kano.
Background
In 2018, Mr. John Ugbe was named Chief Executive Officer of MultiChoice Nigeria, after serving as Managing Director for seven years.
The appointment, announced as part of a general restructuring at MultiChoice Group, Africa's leading pay entertainment company, was yet another accolade bestowed on the engineer, visionary, administrator, business leader, public speaker and change agent, in a career that started off in 1998 as a help desk analyst.
John Ugbe was born on March 8 and studied Electrical and Electronics Engineering (Electronics and Computer Engineering Technology) at Federal University of Technology (FUTO) in Owerri, South-Eastern Nigeria. He has spent the past 25 years empowering women and youth, giving minorities a voice, leading pan-African innovation, and working with internal and external teams to build one of Africa's most transformational media, entertainment and technology organizations.
Under his leadership, MultiChoice rolled out owned channels in three local Nigerian languages, introduced an affordable mass focused digital terrestrial pay TV, supported Nollywood, the country's film industry with annual film budgets of up to $35M, a multi-layered talent academy, and a pan-African, Oscar-styled viewers' choice honours event – Africa Magic Viewers' Choice Awards (AMVCA). A well-praised initiative called 'Sabi Men', has seen over 10,000 youth recruited and taken off the streets, in a country where over 33 % of the youth population are unemployed.
His contributions to the growth of MultiChoice in particular, and the continent in general, continue to attract commendation in form of awards, recognitions, fellowships, and prizes.
Mr. Ugbe has been the recipient of several awards and commendation personally, and under his rudder,  the organisation has bagged more than 30 awards for various initiatives which include but are not limited to; Marketing World Award- Best Company in Customer Care Marketing World Award – Pay TV Brand of the Year Brand Health- Most Trusted Pay TV Brand Brand Journalists Association of Nigeria (BJAN) – Most Impressive Customer Service Pay TV Brand Lagos Chamber of Commerce and Industry – Award for Excellence in Pay TV Services, Rising Global Sports Foundation Award of Excellence in Recognition of its Contribution to Sports Development in Nigeria, SERAs Award (CSR)- Most Improved Company, and Marketing Edge Award – Innovative Terrestrial Pay TV Service of the year (GOtv)
John Ugbe is an active member of the Catholic Church Lagos Archdiocese where he is a member of the Parish Pastoral council, a lector in church, and a respected member of several committees including the building, harvest, and welfare committees.
Based on his outstanding contributions to the media, technology, and entertainment industry in Nigeria and his strong knowledge and distinguished expertise in the industry, Mr. John Ugbe is a well sought-after speaker, and advisor. He has honoured several engagements over the past few years, including the Association of Advertising Agencies of Nigeria Women Conference, the Nigerian Entertainment Conference, Ogilvy's Lagos Business Cocktail, BrandPower – Golden Icons Awards, from which he received an award for Youth Empowerment and was named Thought leader par excellence, joining the club of respected African leaders and captains of industry to be so decorated.
He has chaired and advised several committees both with public and private sectors of Nigeria and in other parts of the world, where he is regarded as a keen thought leader in the area of digitalization, local content, corporate governance, technology-as-a-solution, youth and women empowerment, and entrepreneurship.
John is exceptional in the field because of his multi-dimensional ability of spotting opportunities in the most unlikely situations.
He has built up proven expertise in raising awareness and the savings culture of minorities and underserved markets with a view to meeting longer term goals. He has cut across cultures, tribes, politics, and generations.
John Ugbe has a Masters' in Business Administration, from the University of Liverpool. He is a fellow of the Nigerian Institute of Electrical and Electronics Engineers, the Nigeria Institute of Brand Management, as well as a member of the Nigerian Society of Engineers, the Council for Regulation of Engineering in Nigeria and Nigerian Institute of Management.