BROADCASTING ORGANISATIONS OF NIGERIA
The Broadcasting Organisations of Nigeria (BON) is a broad coalition of public and private broadcasters as the nation's umbrella Union of Terrestrial Radio Television (Tv) Direct-To-Home (DTH) Digital Terrestial Television (DTT) Multimedia Distribution System (MMDS)
Established in 1973, the Broadcasting Organisations of Nigeria is today comprised of over 100 members and they collectively own over 250 radio and television stations. BON's vision is to foster a future-proof environment for radio, TV and new media broadcasters to serve their audiences and contribute to the development of our society.
Radio Rights CAF 2019/2020 Competitions- Click to View
FIFA & BON Sign agreement on Free to Air Broadcasting
Sport Events:
-FIFA U-17 World Cup 2019 (Commences 26th October to 17th November, 2019)
-FIFA Beach Soccer World Cup 2019 (Commences 21st November to 1st December, 2019)
-FIFA Women's World Cup 2019
-FIFA U-20 World Cup 2019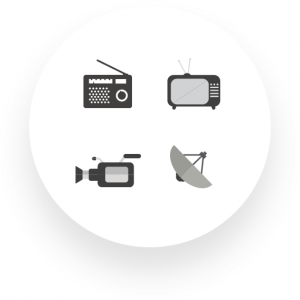 Obituary Announcement
The Broadcasting Organisations of Nigeria commiserates with the Management and staff of Channels Group on the demise of Mr. Precious Owolabi whose sad event occurred yesterday, July 22, 2019. He was a young man serving his father land as a Youth corper and ready to give his best to the nation. His demise will leave a great vacuum in his family, Channels Group and the broadcast family.
The Broadcasting Organisations of Nigeria regrets to announce the sudden demise of a veteran Broadcasting Journalist, Mallam Umar Sai'du Tudunwada, whose sad event occurred on Sunday, June 30, 2019 in a road accident outside Kano city. See full detail
Extensive knowledge exchange & capacity building initiative specifically for the broadcasting.
UPDATES
NBC's Statement On Status Of Digital Broadcasting Switchover in Nigeria.
You were all witnesses to our helplessness when on June 17, 2015 we had to eat the humble pie and admit to the whole world that Nigeria could not meet that deadline of transiting to digital terrestrial…
UK Regulator Evaluates The Role Public Service Broadcasting (PBS) In The Interent Age.
The UK's communications regulator has published a review into public service broadcasting. The report looks at how all the PSB channels have fulfilled the purposes of
BBC Offers Live English Premier League Coverage In Africa.
From Saturday 8 August 2015, football fans across Africa can follow the exciting live action of the new season of the Barclays Premier League in four languages.