The management of TStv Africa on Monday paid a courtesy visit to the leadership of the Broadcasting Organisation of Nigeria at their head office in Garki area 1of Abuja. Led by Dr. Bright Echefu, the Managing Director, the visit followed an earlier visit by some members of the organization to TStv premises where they expressed delight at the facility.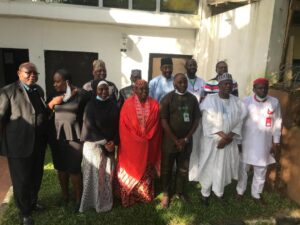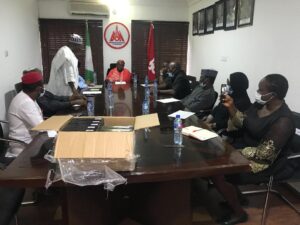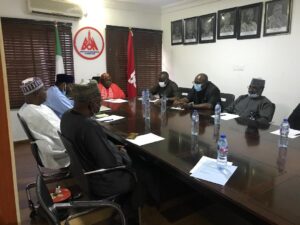 Present at the meeting from the BON side were Hajiya Sa'a Ibrahim, Chairman of BON and the DG of Abubakar Rimi TV, Alh. Ismail Sani – Chairman and CEO of Platinum Radio and WTV, Alh. Ibrahim Dasuki Nakande, former Minister of Information and Chairman of Unity TV/Radio Jos, Usman Umar Bello, Director Admin/Finance of BON and Alhaji Shehu Dalhatu, a media Consultant.
In the TStv delegation with the Managing Director were the Executive Director Finance, Mr. Felix Igboanugo, the Executive Director Marketing Dr. Aisha Turaki, the Executive Director Administration Alhaji Umar Lawal, the Head of Corporate Affairs, Mr. Demola Olarewaju, the Head of Marketing, Oge Abonyi and the Head of Content, Mr. Abutu Achema.
Bright Echefu in his speech to the BON leadership duringthe courtesy visit said that TStv is creating a Pay Per View model which he explained as the customer only having to pay for the stations he or she watches and for the duration. With stations as low as NGN3 per day, Echefu further explained that the Pay As You Go model would help customers to recharge their decoder accounts with as low as NGN50 recharge cards.
Explaining the A La Carte model, Echefu said it was a flexible way of accessing whatever television content preferred, without forcing anyone to choose packages as the model allows everyone to choose the five stations they like to watch and pay only for those. He expressed delight at TStv's membership of BON and promised that TStv would play a key role in the activities of BON, going forward.
Hajiya Sa'a Ibrahim, Chairman of BON and also the DG of Abubakar Rimi TV, Kano in her response expressed delight at the visit of the TStv management and their membership of BON, saying that there was always room for more media members in the organization as the need to come together and collaborate always exists. She asserted that BON needed to reclaim its mission in agenda-setting and also to pay attention to the youths in order to help the government curb anti-social elements that had become rampant on social media.
The courtesy visit ended with a gift of few decoders and dishes presented to the BON leadership and a vote of thanks by Alhaji Dasuki Nakande